Apollo 13 – ISM™
This is the ISM variant of Apollo 13
Learn about the ISM approach
Experience how to apply this ISM approach
Increase ITSM performance
Do you recognize this?
Many ITSM departments are struggling to deliver quality services to their business. Many have invested in ITSM training and certification and are struggling with process adoption? aligning the process with their tool functionality, struggling with people and roles and responsibilities. Services are unpredictable, processes flows are books of bureacratic procedures.
Why is this?
Most of the training is focused on getting certified, which means, "Train to pass the exam". But we forget to teach the students how to apply the theory in day-to-day work.
Most of the success of Service Delivery is Attitude and Behavior, this is not what is taught during classes.
IT is so internally focused, that we forget to focus on the Business. How do we organize our teams, and how do we apply ITSM best practices to meet that objective?
Process flows and procedures are designed and thrown over the wall, they are incomplete, inconsistent and are not enabled by the technology.
Tools are implemented without any alignment with the processes and procedures that have been designed.
"This Apollo 13 simulation gave my team a clear focus on how to align the IT services to the Business, we had fun, we saved the Crew and we took at least 5 lessons learned back to the office!"
About Apollo 13 – an ISM experience™
Scenario 
You are the Mission Control Center of NASA. Your aim is to support the Crew during the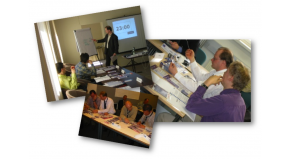 Mission. You must design your services, implement them, execute them and apply continual improvement practices in order to make the mission a success. In 4 rounds you will be challenged with issues, problems, events, changes and increasing business demands. You must apply the ITSM best practices in order to become successful. You will guide the crew through the launch, journey to and from the moon and to a safe return and splashdown, at the same time realizing the strategic goals for the mission.
Objectives 
The learning objectives are dependant upon what your organization is trying to achieve, where you are on your ITSM journey and the problems and issues you are trying to solve. These are some of the objectives achieved during this training:
Participants will have a better understanding of the ISM processes and principles
Participants will have a better understanding of how to implement this successful and pragmatic ISM approach.
Participants will learn how to apply an integrated approach to 'people', 'process' and 'technology'.
Participants will have a better understanding of how to design, implement, analyse, audit and improve processes aimed at reducing non-compliance issues and business risk, and at the same time delivering value to the business.
Participants will learn how to justify ISM improvement initiatives in relation to business drivers and demands.
| | |
| --- | --- |
| Duration of the simulation | 1 day |
| Number of participants | 8 – 12 |
| Basic expertise   | ITSM basic understanding |