Countdown to success …. or Failure?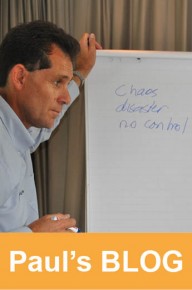 by Paul Wilkinson – GamingWorks
Increase the Return-On-Value (ROV) of an ITIL® training investment and increase the chance of a successful ITSM improvement program.
"…..as I walked into the room the CIO eyed me suspiciously, having been told I was here to tell him something about ITIL®. His people had told him about 3 days of 'death by powerpoint', of not having understood half of it and no time for discussions because they had to get through all that 'stuff' on the Foundation syllabus…. not to mention the fact that with all that ITIL® training and all those 'certificates' things were still not under control….'.  Was this organization getting Value from their training investment? Is it any wonder the majority of organizations do not get the expected value from an ITIL® initiative and more than 50% fail because of resistance if this is the impression of ITIL® training.
This document contains the latest critical success factors for making ITSM initiatives work according to more than 2000 ITSM professionals who participated in the business simulation 'Apollo 13 – An ITSM Case experience™'. In many of the situations the business simulation was used as an extension of ITIL foundation training so that participants could learn to 'translate theory into practice' and 'Knowledge into Results'. However the key wins that the IT managers recognized after the sessions were 'buy-in', 'reduced resistance', 'better team working' and a 'list of improvement suggestions on how ITSM best practices could actually HELP!'.
Why a simulation as part of an ITIL initiative?
"…A service is a means of delivering value to customers by facilitating outcomes customers want to achieve without the ownership of specific costs and risks".
As more and more people are adopting ITIL® V3 training NOW is the time to use the ITIL® concept of a service to ensure you get VALUE from your training investment and avoid COSTS & RISKS of failing to successfully adopt & deploy ITIL®. 
IT organizations are increasingly adopting frameworks such as ITIL® to enable them to deliver quality services, however ITIL® does not always deliver the 'hoped' for benefits.
A Forrester investigation revealed that of those that fail 52% do so because of 'resistance' to change.
The results of an ABC of ICT™ (Attitude, Behavior, Culture) survey reveal that the top 3 customer related 'worst practices' impacting IT organizations (many having already adopted ITIL), are 'No understanding of business impact and priority', 'Not my responsibility' and 'IT is too internally focused'.
 The top types of resistance to ITIL initiatives taken from an ABC of ICT™ survey reveal 'Throwing solutions over the wall', 'We're going to implement ITIL….it can't be that difficult', 'Plan, do, stop….no real continual improvement cultures', and'Don't follow procedures just do what we normally do' all score high as reasons for failure.
94% of people in a survey agreed that 'Current ITIL training and certification doesn't adequately teach people how to deal with the above issues', revealing that something different is required.
Gartner findings on CIO.com also revealed '…20% are doing a reasonable job of it (ITIL), the rest haven't really understood the nature of the transformation ….and aren't getting the value they thought they would.'
All in all a fairly sorry state of affairs.
This resistance, and these worst practices cause unacceptable costs and risks to the business and are a barrier to realizing value.  
Failure is not an option!
IT is becoming increasingly critical to most businesses. It is becoming too important, we can no longer afford to have these types of initiatives fail. In the terms of Gene Kranz Flight Director of the NASA Apollo 13 mission 'failure is not an option'!
Investing in ITIL® Training
IT organizations invest in ITIL® training to develop ITSM capabilities, capabilities to help them bring IT under control. To them training is in fact a 'service' offering they procure from their training provider, with which they expect 'to realize outcomes they want to achieve without specific costs and risks. 
But what is the Value of training investment at the moment, especially if we consider the facts above?
Outcomes they want to achieve
The main outcome, according to our survey, is a 'certificate' which is a demonstration of proof of understanding of theory. Another is a 'common terminology'.
However are these the outcomes the business expects from such an investment?A more valuable outcome would be the ability to translate ITIL theory or knowledge into practice, such that costs and risks can be managed and value goals realized.
Without specific costs
A 'certificate' does not enable students to 'manage change', create buy-in, and overcome resistance.  Having a 'certificate' without the understanding and ability to practically apply the theory increases the time, effort, energy and costs in adopting and deploying ITIL.In today's economic climate organizations cannot afford to waste costs and valuable resources.
Without specific risks
The inability to 'manage change' and successfully translate theory into practice in a live organization may create unacceptable risks to your business. With the growing importance of IT these risks are becoming unacceptable. 70-80% of organizations do not get the value they had expected. Resistance to ITIL and people NOT following agreed procedures puts the business at risk.
Learning to translate Knowledge into practice
By adding an effective 'Learning-By-Doing'  intervention into the training such as a business simulation, organizations are able to increase the value of a training investment and help reduce the costs and risks associated with adopting and deploying ITIL. There are many such simulation instruments available in the market that can be used to achieve these goals. Apollo is just one of them – however it is the only one I know anything about. 
What are the benefits of using a simulation?
Value of training investment
Outcomes they want to achieve
Delegates learn to apply the theory in a simulated environment.
They are able to translate ITIL theory or knowledge into practice, such that costs and risks can be managed.Delegates see, feel and experience how ITSM best practices such as ITIL can be used to realize 'measurable' value.Delegates learn to apply Continual Service Improvement methods.Delegates capture improvement suggestions as input into their own Continual Service Improvement initiative.

Delegates recognize 'fail factors' and more importantly 'success factors' in how to apply ITIL to deliver value and minimize costs and risks.

Without specific costs
Delegates experience resistance and 'fail factors' in applying ITIL in a safe, simulated environment in 1 day, avoiding experiencing these in a live environment.
This reduces the time, effort and energy in learning to apply ITIL and in creating buy-in and commitment, thereby reducing deployment costs.
Without specific risks
Experiencing resistance and 'fail factors' in a safe environment avoids the risks of failing in a live environment.By learning how to apply 'success factors' in a simulated environment delegates are better able to 'manage change' in
their own live environment and reduce business risks associated with failed ITSM improvement initiatives.
We would now like to share with you the captured critical success factors for adopting and deploying ITSM best practices. These are success factors identified by ITIL trainees, experts and practitioners alike who have participated in the 'Apollo 13 – An ITSM Case Experience™' simulation.
Use the following top 10 success factors as a checklist to test YOUR ITSM improvement initiative. Use this Top 10 as a countdown to success…….or failure! The choice is yours. Failing to consciously address these in your ITSM improvement initiative can be a costly, risk filled exercise for YOUR business.
Countdown to success…..or Failure
The figures show the % of responses related to People, Process, Technology or Performance. People were not asked to cluster their feedback. People simply recorded free format their experiences of success factors and key learning. This clustering was performed afterwards after analyzing the feedback.
Conclusion
As can be seen clearly the 'People' related factors are seen as the largest grouping of critical success factors for ITSM success. Take a look at your ITSM improvement plan and see how many hours, how much time, money and investment is proportioned to each of the above (People, Process, Technology, Performance)?
Are you investing enough in the attitude, the behavior and the culture issues associated with ITSM improvement programs?
The new 'ITIL V3 Planning to Implement service Management' book is now out. Chapter 2 is devoted to 'Achieving cultural change'. The book also recognizes that 'the most common reason for the breakdown of service management initiatives is failure to recognize the importance of organizational culture'.
Simply sending people on ITIL theory training does not help address these people related issues. A simulation helps to stimulate a dialogue, foster team working, help people translate the theory into practice and helps empower people to identify improvements they can take away and apply in their own working environment.
Share this article