Duale Hochschule Baden-Württemberg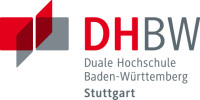 Die Duale Hochschule Baden-Württemberg (DHBW) Stuttgart gehört mit rund 8.800 Studierenden in Bachelor- und Masterstudiengängen zu den größten Hochschulen in den Regionen Stuttgart und Oberer Neckar: In Kooperation mit rund 2.500 ausgewählten Unternehmen und sozialen Einrichtungen, den Dualen Partnern, bieten die Fakultäten Wirtschaft, Technik und Sozialwesen mehr als 40 national und international anerkannte Bachelor-Studienrichtungen an. Zentrales Merkmal ist der regelmäßige Wechsel zwischen den Theoriephasen an der Hochschule und den berufspraktischen Phasen beim ausbildenden Dualen Partner. Das Zentrum für Managementsimulation der DHBW Stuttgart intensiviert und optimiert als Service- und Forschungszentrum den Einsatz von Planspielen an der DHBW Stuttgart.
With around 8,800 students, the Baden-Wuerttemberg Cooperative State University (DHBW) is among the largest universities in the Stuttgart and Upper Neckar regions. In cooperation with about 2,500 carefully selected companies and social institutions, the dual partners, the Schools of Business, Engineering and Social Work offer more than 40 nationally and internationally approved Bachelor courses. Their most important feature is that students regularly switch between theoretical phases at the university and practical phases at the dual training partner. As service and research centre the Centre for Management Simulation intensifies and optimizes the usage of simulation games at the Faculty of Business.
Visit website of Duale Hochschule Baden-Württemberg
Contact Duale Hochschule Baden-Württemberg
Certified to deliver the following Business Simulations

Trainers
Apollo 13 - an ITSM case experience™

Prof. Dr. Marcus Vogt
Prof. Dr. Thomas Kessel
Michael Pott
Klaus Kohler
Matthias Bräutigam