Apollo 13 – an ITSM case experience™
Improve your ITSM performance
Increase Customer and Service Focus
Get more out your ITSM training
Learn how improve Processes to realize demonstrated value and reduce business risk
Do you recognize this?
With the growing importance of IT to all organizations ITSM is becoming a strategic capability. Many organizations have adopted and invested heavily in ITSM best practice frameworks such as ITIL. Many are struggling and are not achieving the hoped for value, worse still their lack of ITSM capabilities are presenting a risk to their business. Despite the massive investments in ITSM training and certification we still struggle to translate the theory into practice and translate the ITSM knowledge into results.
Why is this?
Most of the training is focused on getting certified, which means, "Train to pass the exam". But we forget to teach the students how to apply the theory in their day-to-day work.
The number 1 reason for ITSM initiatives failing is ABC (Attitude, Behavior, Culture). There is too little attention in training on dealing with this. Creating buy-in, overcoming resistance, empowering people to change.
Many organizations see ITSM improvements as 'Implementation projects' and fail to embed CSI (Continual Service Improvement) as a core capability within the culture of the organization.
IT is too internally focused. We forget to focus on the Customer and the Business.
There is too little focus on aligning processes to business needs and too little ability to measure and demonstrate the value.
"This Apollo 13 simulation gave my team a clear focus on how to align the IT services to the Business, we had fun, we saved the Crew and we took at least 5 lessons learned back to the office!"
About Apollo 13 – an ITSM experience™
Scenario 
You are the Mission Control Center of NASA. Your aim is to support the Crew during the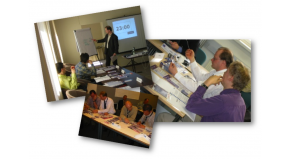 Mission. You must design your services, implement them, execute them and apply continual improvement practices in order to ensure mission success. In 4 rounds you will be challenged with events, problems, issues, changes and increasing business demand. You must apply the ITSM best practices in order to become successful. You will guide the crew through the launch, journey to and from the moon, to a safe return and splashdown,  at the same time realizing the strategic goals for the mission.
Objectives 
The learning objectives are dependent upon what your organization is trying to achieve, where you are on your ITSM journey and the problems and issues you are trying to solve. These are some of the objectives achieved during this training:
Learn how to apply ITSM best practices and learn the essence of ITSM;
Learn how to measure and improve your performance;
Learn how to stay customer focused and set the right priorities based on customer impact;
Develop communications and team competences.
Movie
| | |
| --- | --- |
| Duration of the simulation | 1 day |
| Number of participants | 8 – 12 |
| Basic expertise   | ITSM basic understanding |