The Phoenix Project for Business
Many employees in many organizations have participated in the Phoenix Project business simulation. This was a full day experience, with teams of 10-12 participants. In many organizations we have received the same kind of feedback:
"This is something management and

business should experience as well"
But, the challenge is:
How do we get 12 managers or business people playing a simulation for one full day?
The Phoenix Project for Business offers a half day session, for teams of 5-8 participants.
This simulation covers the key aspects of DevOps and the DevOps journey in a very structured way. Especially for those who want to experience:
What is DevOps?
What can DevOps bring to my organization?
What is the consequence for my organization?
About the "The Phoenix project" Simulation game
The simulation game is based upon 'The Phoenix Project' Book. Parts Unlimited is in  trouble. Newspaper reports reveal the poor financial performance of the organization. The only way forward to not only save the co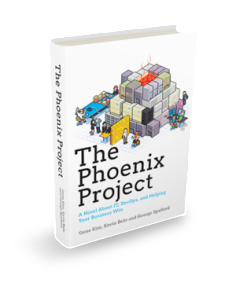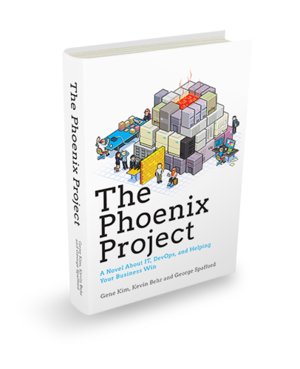 mpany but to make it competitive and profitable is "The Phoenix Project" which represents an IT enabled business transformation, with Retail Opera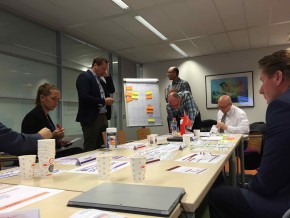 tions as the business owner of this project. The VP of IT Operations is asked to take the lead of the IT department and ensure that "The Phoenix Project" will be a success. But the VP of IT Operations is facing a tremendous amount of work. A huge backlogs of issues, features and projects.
Your team will act in different roles within the Parts Unlimited organization. You can be Retail Operations, Human Resources or Finance – playing the Business roles of the company. Or you can be the VP of IT Operations or other members from his IT Team that needs to develop the applications and solve the IT Issues.
Your challenge is to use the DevOps principles and apply them in this serious Business Simulation. In three rounds you will work on the IT projects and IT issues and ensure that "The Phoenix Project" will be finished on time. But, beware, the business keeps coming with new ideas and demands and external developments outside your control can also throw a spanner in the works.
| | |
| --- | --- |
| Duration of the simulation: | 4 hours |
| Number of participants: | 5-8 |
| Basic expertise: | No basic understanding required. |