GamingWorks  will be presenting at the itSMF event in Finland and running a Hollywood Dreams (SIAM) Demo
EMPOWER – itSMF Finland vuosikonferenssi 2023 – itSMF Finland
—————————————————————
Wednesday 1st of November
Experience managing the multi-vendor environment of Hollywood Dreams – game
Cooperation between business and IT suppliers does not happen by itself. It requires governance and management! In this simulation, you will experience what it means to run IT services with the support of multiple suppliers. You will experience how to integrate, orchestrate and contract outsourced IT services with multiple suppliers into an IT chain that increases the efficiency of business processes and helps realize business goals.
Hollywood Dreams gives you a real-life experience and prepares you for the existing challenges in your organization:
How can you build the bridge between the business (demand) and underlying service providers (supply) in order to deliver the value that the business needs?
How can you ensure that suppliers make the best possible contribution to the business?
How do you ensure the right choices and priorities?
How do you analyze, improve and adjust the contracts when the demand changes?
Hollywood Dreams – SIAM – GamingWorks
Thursday 2nd of November:
Fabulous, unbelievable, mind-blowing are just some of the adjectives that describe your team…right?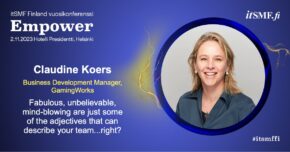 Organizations and teams are trying to get more sustainable, more efficient, more effective, more ….. Every day, a new hype pops op (from Lean, DevOps, Agile, Kanban, FitSM, etc.). But how do we really create (high) performing teams?
Team members with the highest qualifications, the smartest, the fastest, ..…. does that make your team high performing? Using the results over years of experiential learning in our simulations we analyzed teams. The teams are put into the same simulated environment and no result is the same. So investigating the similarities and variations, what made the difference? What makes teams perform and how do teams learn? What is the role of learning by doing in this?
Teams working is not the same as Team working. I will share some interesting observations on teamwork. About team composition, openness, trust, respect. Are team members capable of adapting and learning? How are they caring? Does mental health matter? Fear uncertainty and doubt matter, is everybody in the team sharing their doubts and ideas? Is everybody listening? Join me and let's share thoughts.