itSMF India LEAN IT Simulation
Our local partner Taub Solutions will deliver our new LEAN IT card game.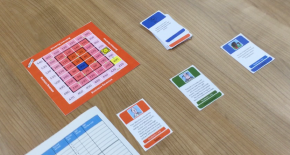 This card game will demonstrate the essence of Lean IT. Teams of 8-10 participants will run the company DistriMovie and the IT Team must make the business successful. In 3 small rounds the team will learn to make the process Lean, focus on the customer, create flow, increase performance, remove waste, develop quality etc. The workshop will take about 90 minutes.
Partners or organizations who want to run this simulation with customers or teams can contact Taub Solutions or GamingWorks.
Read more at the itSMF India website:
http://itsmfindia.in/conferences/conference2015/annual-program-schedule.html