On-line Business Simulations
By GamingWorks
Online business simulations are powerful interactive learning experiences for remote teams. It bring 3 elements together that are crucial to develop high performing teams:
The use of online collaboration tools
The development of remote collaboration skills
The application of new (DevOps and ITIL4) knowledge
New and important skills to organize and manage work from any place in the world, at home or from the office.
GamingWorks has designed 3 online variants of the classroom simulations.These simulations will bring the above skills together in a realistic, dynamic and challenging learning environment. Facilitated by an experienced trainer. A Team of 5-7 students will work on their own computer, using a camera and microphone. All together as one team sharing a Mural Room as their virtual table with their own cards and instructions. Planning the work with 'post-it' on a shared visualization board.
The Phoenix Project on-line simulation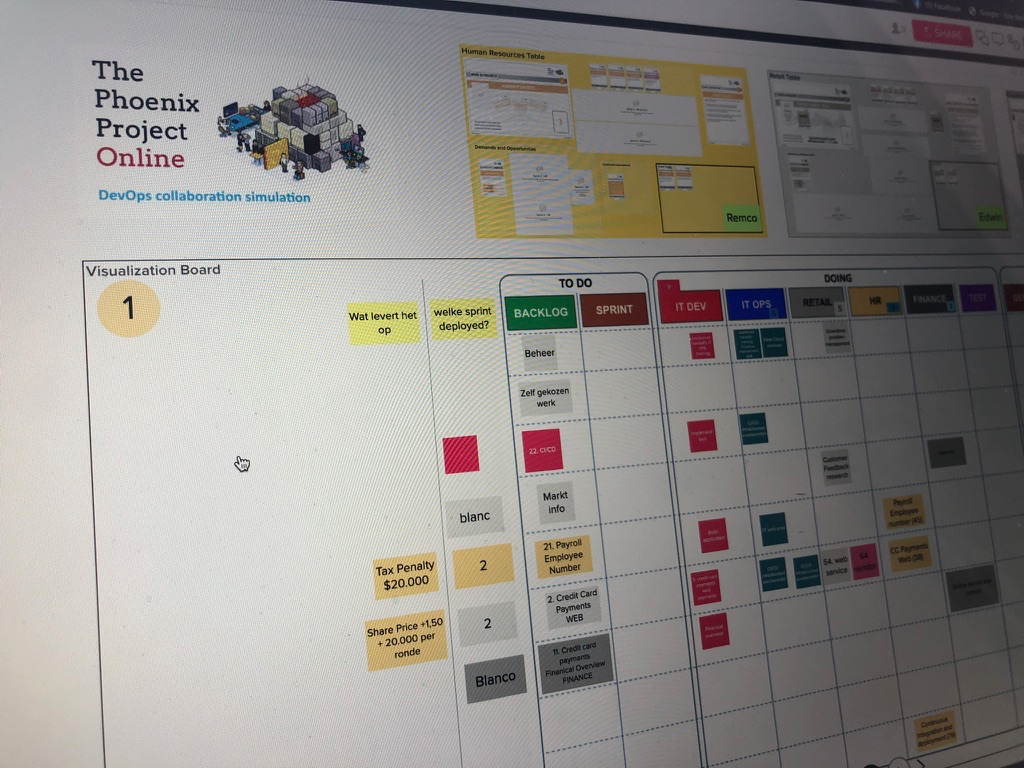 This 6 hours simulation is about the company Parts Unlimited. The company has started the Phoenix Project to develop a new Sales System aimed at increasing revenue, profit and customer satisfaction. The participants will 'play' roles in the business and IT team and will need to plan, develop and release new features with a fast time-to-market and without errors. The team will help fulfill the company's strategy by applying DevOps principles. In 4 rounds the team of 5-7 students will experience how continuous experimenting and learning will develop a high performing team. In this simulation delegates will explore key aspects of DevOps and how these can bring value to the company. This simulation is designed to create awareness and buy-in for new ways of working, to translate theory into practice, to develop skills in new remote (DevOps) teams and to capture takeaway improvement actions.
The MarsLander on-line simulation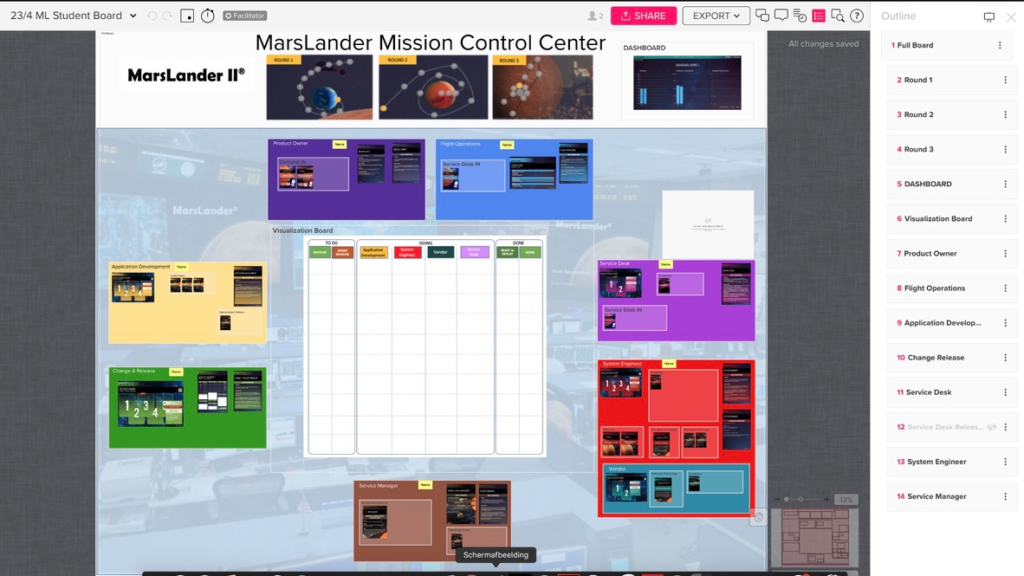 The team will 'play' a role in the company SPACE-Y. This digital organization launches rockets into space to collect data for universities, high schools and research centers. In this mission the team will take MarsLander on its journey to Mars. In 3 interactive rounds, the team of IT and Business roles will design and implement new IT Services to make this mission a success. The challenge is to create business value, minimize risks and costs, and to realize outcomes that will increase customer satisfaction and loyalty. In 5 hours the team will learn how to apply ITIL4 principles to achieve this, or how to align ITSM practices with more Lean and Agile approaches. This simulation will help students to understand ITIL4 and its value following an ITIL4 foundation training or can be used to bring ITSM and Agile teams together to develop improved communication and collaboration skills, exploring how to align DevOps/Agile/ITIL/ITSM practices. The simulation will also help team leads and management to get this overall picture of the value of ITIL4 and more agile ways of applying ITSM.
The MarsLander on-line exercises
In these ITIL4 advanced level exercises the team will act as employees in SPACE-Y. During these 2-3 hour session the facilitator will explore and discuss with the team one of three key elements of ITIL4, the 'Service Value System', 'Value streams' and 'Continual Improvement'. The team will face a challenging day to day situation of balancing workloads with scarce resources. Exploring what it means to 'Focus on Value'. How to 'Collaborate and promote visibility' to co-create value. Focusing not only on current demands and opportunities but also how to support and enable digital transformation initiatives and goals. These exercises can be added into or onto existing ITIL4 advanced online training such as MPT, DPI or HVIT or can be used in management level workshops.