Bright Consulting Ltd.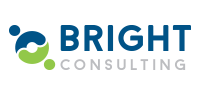 Bright Consulting is an IT Management consultancy with a passion to help enterprises transform IT. With our Service Management approach we enable IT to manage complexity and reach greater efficiency and transparency.
We work with some of the largest companies across EMEA to optimize IT operations with simple and efficient IT processes. Our transformation approach starts with assessment of the current and future requirements across the services, processes and organization and deliver an end-to end solution in selected areas:
• IT Service Management
• Proactive Operations
• IT Service Automation
• Cloud Management
• Software License Management
• Enterprise Architecture
To deliver outstanding IT Management solutions, we partner with technology leaders in each area. In Business Service Management, Bright is a Premier Solution, Consulting and Support partner of BMC Software and has developed one of the largest and respected ITSM Consulting teams in EMEA.
Our consultants share the values of professionalism, commitment and team collaboration and deliver tangible results in the most complex and challenging enterprise environments.
Visit website of Bright Consulting Ltd.
Contact Bright Consulting Ltd.
Certified to deliver the following Business Simulations

Trainers
Apollo 13 - an ITSM case experience™

Krasimira Taseva
Metodi Zlatkov
Plamen Mandadzhiev
Petar Doychinov