Europäische Wirtschaftshochschule Berlin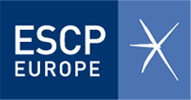 ESCP-EAP is both a high-level school of management with international scope and a large-scale European institution. It was founded in Paris in 1819 and, since then, has educated generations of leaders, contributing to the fine reputation it enjoys today.
The European calling of the school was born when the Paris Chamber of Commerce and Industry decided in 1973 to create a multi-campus school of management in France, Germany and the United Kingdom, called EAP. The ambition was to contribute actively to the development of a European economic culture.
Today this project, the driver of ESCP-EAP, has taken wing. With five campuses in Paris, Berlin, London, Madrid and Turin, ESCP-EAP is now the School of Management for Europe.
Visit website of Europäische Wirtschaftshochschule Berlin
Contact Europäische Wirtschaftshochschule Berlin
Certified to deliver the following Business Simulations

Trainers
Apollo 13 - an ITSM case experience™

Markus Bick
Kathrin Börgmann