Service Management Art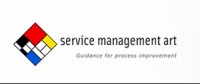 We are the psychological component in your IT process.
Okay, let's start by analyzing 'Service Management Art'. Our job is to anticipate the anticipations. So many people, so many different points of view, opinions, meanings, visions, experiences or goals. How do we provide strategies that 'look after all people' and 'generate results' at the same time? How can we 'SERVICE' the entire organization best?
Visit website of Service Management Art
Contact Service Management Art
Authorized Reseller of the following Business Simulations
Apollo 13 - an ITSM case experience™