60 Chinese IT specialists running the Phoenix Project simulation
Having 60 Chinese IT specialists running the Phoenix Project simulation on a Saturday in Beijing.
By Jan Schilt, GamingWorks
It's the HPE Building in Beijing, the 20 aspirant trainers are ready for their 2 days intensive Train the Trainer for the Phoenix. 2 Days to prepare for the first big Business Simulation Competition in Beijing. Organized by The International Best Practice Alliance and GamingWorks.
The competition between 5 company teams was quite exited. Companies prepared their best IT DevOps teams with the best experts they had. 5 Teams that were competing each other to become the best Phoenix Project team.
We 'scored' the team on the following values:
Total Revenue at the end of the simulation
Share price at the end of the simulation
The growth in the number of releases/deployments
The growth in quality (success rate)
The number of incidents solved
And, of course, how they applied DevOps principles to achieve their goals.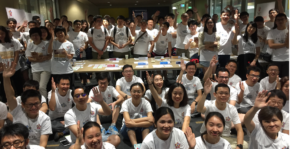 Look at how many people read the Phoenix Project?
The outcomes where quite exiting: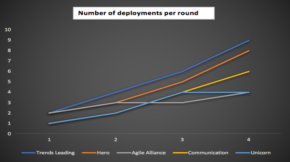 For most of the teams the number of deployments went high by applying flow and visualization. Later in the rounds 3 and 4 only the good teams could really manage the workload and new feedback from the business into more deployments. The blue team was the winner with continuous growth of deployments.
The quality of the second round was a problem for most teams. They implemented their new tools and automation and this took some time to create real value. But most of the teams showed how the quality improved by applying teamwork, continuous learning and experimenting. A very good result.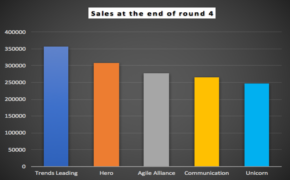 At the end it's all about business value. The winning team managed to reach $359.000 and showed how high performing teams can not only increase the deployment rate, the quality but also create more value to the business.
Target for this simulation was $300.000.
At the end we captures the lessons learned of the team. It's was very impressive to see what they actually learned/discovered during this session.
Lessons learned by the teams the Phoenix Project
Take time for building your team
Clear roles and responsibilities
Take time for creating the right culture
Build trust, no blame culture
Learn to deal with uncertainty
Involve the business, product owner
Focus on value, not just fill your time
Visualize your work
Avoid waste, rework, disruptions
Keep the flow
Use standups to improve communication
Share knowledge
Create multifunctional teams
Plan time for learning and experimenting
Measure your performance
Celebrate success learn from failure
Read more about the Phoenix Project simulation :
https://www.gamingworks.nl/business-simulations/the-phoenix-project/
Share this article