Apollo 13 – an ITSM case experience™
Improve your ITSM performance
Increase Customer Focus
Get more out your ITIL training
Learn how to work in Processes
Do you recognize this?
A lot of ITSM departments have problems delivering value to their business. Despite all the training investments still ITSM teams are not able to perform according to the Service Levels. The services are to unpredictable, unrepeatable and expensive.
Why is this?
Most of the training is focused on getting certified, which means, "Train to pass the exam". But we forget to teach the students how to apply the theory in day-to-day work.
Most of the success of Service Delivery is Attitude and Behavior, this is not what is trained during classes.
IT is so internal focused, that we forget to focus on the Business. How do we organize our teams, and how do we apply ITSM best practices to meet that objective?
"This Apollo 13 simulation gave my team a clear focus on how to align the IT services to the Business, we had fun, we saved the Crew and we took at least 5 lessons learned back to the office!"
About this Apollo 13 – an ITSM experience™
Scenario You are the Mission Control Center of NASA. Your aim is to support the Crew during the Mission. You must design your services, implement them, execute them and continuous improve them in order to make the mission a success. In 4 rounds you will be challenged in different situations, you must apply the ITSM best practices in order to become successful. You will guide the crew through the launch, around the moon and a save splashdown.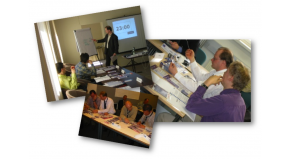 Objectives Each of the simulations will be customized towards your own objectives. But in general these are the main objectives:
Learn how to apply ITSM best practices and learn the essence of ITSM;
Learn how to measure and improve your performance;
Learn how to stay customer focused and set the right priorities based on customer impact;
Develop communications and team competences.
Duration of the simulation     : 1 day
Number of participants          : 8 – 12
Basic expertise                        : ITSM basic understanding
Interested in Apollo 13  – an ITSM case experience™
request a quote

contact GamingWorks to learn more about this simulation for your team

ask for a Brochure with more details

check for a partner
Share this article