14th of June – Free demo run online Fly4You – SAFe
Why would you add the SAFe game to your training or projects?
This simulation will encourage a team of employees to work on SAFe challenges and develop the skills needed to make SAFe projects successful.
This simulation results in faster acceptance of SAFe principles and quicker integration in employee's day-to-day scaled Agile environments.
The mixture of theory, skills and behavior will guarantees a faster transfer of knowledge
https://www.gamingworks.nl/welcome-to-the-fly4you-safe-simulation/
Quote:
Dean Leffingwell (SAFe creator and methodologist):
"This simulation is spot on and touches the essence of SAFe and the Challenges our customers are facing. This is a unique product we like to support".
Register below 
More information: Promo video


General outcomes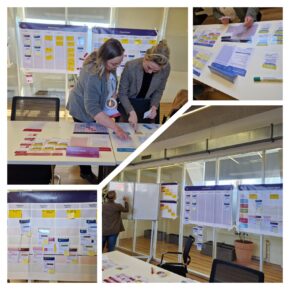 How can we organize digital transformation programs?
What are the key elements of a SAFe® approach?
How can SAFe® principles benefit the organization?
What is the impact of this way of working for an organization and how can we deal with this?
How to involve all stakeholders when 'implementing' this way of working?
 Specific outcomes
How to define a Strategic Theme?
How to prioritize Features and Enablers on a Program Backlog?
How to prepare for a successful PI Planning?
How to execute a PI Planning?
How to involve Business roles in this process?
How to prepare a Program Board?
How to work with multiple teams focussing on the same outcomes?
How to be flexible and scalable when building new systems and services?
How to implement a SAFe® 'culture' in an organization?
 Who is this simulation for?
This simulation is for managers and team leads to learn what SAFe® is all about and how to use it?
This simulation is also for employees who work in teams and want to learn how to apply SAFe® principles in their own work.
Before starting a SAFe® program or training, this simulation can be used to create a basic overview of what SAFe® is all about. This will increase the success rate of the program or training.
When finished a SAFe® training this simulation can support transferring knowledge from training to day to day work. Students can apply the theory into a realistic and safe learning environment to bring the knowledge to the level of understanding and applying
Event registration Form - 14th of June – Free demo run online Fly4You – SAFe