23rd May – Introduction of our New Games
We have been very busy working with experts in SAFe, SIAM, Multivendor Government & Management, FitSM & IT Service Management to build, develop, test and play our newest games.
Curious about the games, feedback from the market and tips on how to sell and integrate these games into your portfolio?
We invite you to join us in our webinar at 15.00 until 16.30 CEST.
Want to join? You can subscribe below.
For questions you can e-mail Claudine Koers: c.koers@gamingworks.nl
Our newest games are:
Why use Fly4you?


This simulation will focus on the following key items: – Translate strategy into execution and shifting from output to outcome – Aligning end -to-end teams and creating buy-in from business and technical stakeholders. – Creating an agile organization with supporting practices and cultural values. – Dealing with changing and sometimes conflicting business priorities
Why use CarGo?

In this simulation the team of participants will act as teams within the CarGO organization. Business, IT and IT Vendors will work together in making the organization more successful. Step by step the team will apply the basic IT Service Management processes and will learn how to deal with different business and IT situations.
Why use Hollywood Dreams?


In this simulation, you will experience what it means to run IT services with the support of multiple suppliers. You will experience how to integrate, orchestrate and contract outsourced IT services with multiple suppliers. How to build the bridge between the business (demand) and underlying service providers (supply) in order to deliver the value that the business needs.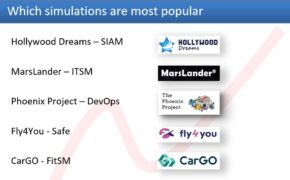 Event registration Form - 23rd May - Intro of Games