Grab@Pizza™ – Business IT Alignment
Do you recognize this?
70% of the IT departments are unable to demonstrate value to their business. IT is under pressure. New technology like Cloud, is moving faster and business understands this technology faster and better then IT. How can IT align with the business to make sure the business becomes successful. How can IT manage the everlasting stream of changes and manage costs and risks and deliver value (outcome) to the business.
Why is this?
IT is not able to apply the ITSM best practices on strategic level.
Not many IT departments know the definition of a Service, so how can you deliver services according to the ITSM theory?
IT did not find answers to the ABC of ICT exercises the top 3 cards

Not understanding business impact and priorities
Internal Focused
Too little Business involvement in requirements specification and testing

No knowledge about Business and IT Alignment
"During Grab@Pizza I was playing the Business Manager, i realized that i was making my decisions based on Business Value. This is something I don't see in our organization."
About this Grab@Pizza™ simulation
Scenario Grab@Pizza is a very successful company selling millions of Pizza's every year. But after 6 month in this year, the sales is far behind schedule. The CEO urged the Business Manager to make a challenging recovery plan. This plan is based on a 6 month strategy to bring the sales and profit back on target. The IT department must organize themselves to explore the business demands, translate them to IT strategy and organize IT Support, IT Operations, Change Management to make sure the Business is successful at the end of the simulation.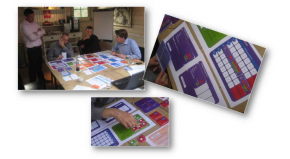 Objectives Each of the simulations will be customized towards your own objectives. But in general these are the main objectives:
Learn how to apply the Jerry Luftman theory about Business and IT Alignment
Learn how to implement effective communication and governance processes to make the right decisions
Learn how to translate Business Strategy planning to IT Strategy planning
Learn how to internally align the ITSM processes to create value to the business
Develop a effective customer focus
Duration of the simulation     : 1 day
Number of participants          : 8 – 12
Basic expertise                        : Basic understanding of ITSM
Interested in Grab@Pizza™?
request a quote
contact GamingWorks to learn more about this simulation for your team
ask for a Brochure with more details
check for a partner
Share this article