It's time for a CPI-register (Continuous Project Improvement register)
Today I was in Kiev. Attending the PM-Forum 2013. 140 Project Managers attended. My first presentation was about "How Learning Processes can improve Project Performance". At the start i did a little survey:
How many of you are acting as Project Manager? (90)
How many of you are performing a Project Closure? (70)
How many of you document Lessons Learned? (60)
How many of you transfer lessons learned to the next project? (40)
How many observe significant improvements in their project? (20)
Interesting to see that only 3 out of 140 knew the Kolb Learning Cycle. And more then 80% found my presentation very useful after learning about Kolb and how to apply this. Most of the presenters on this conference were convinced that we should realize that 90% of project success is COMMUNICATION and that we should focus more on PEOPLE. Many PM i Spoke realized that project performance should be improved by using Learning Processes.
In fact they agree, we are not learning from our mistakes.
So i suggest we start with a CPI-register. A Continuous Project Improvement register. We document all improvement suggestions, we check the value it brings to the business/result/outcome if we fix it, we classify all items, we decide which one to take first and we use the Kolb Learning Cycle to implement the REAL improvement: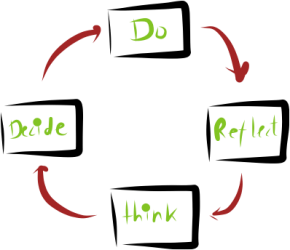 In the afternoon we ran the Challenge of Egypt simulation with over 100 participants. The Pharaoh requested 13 identical pyramids. And has assigned a Project Board to take care of this project. This was a great success. The outcomes of the reflection:
We really need time for communications. We were not always clear about expectations.
As a PMO we had to work very hard to get all data on team. Every project was working on its own and was not always willing to share data. Because of this we did not have the right information for the Board and the Pharaoh to make decisions.
As we were running out of time, or budget we try to sell the customer another product. In fact they try to sell pyramids with swimming pools and garages for camels. This mean more empty holes in the pyramid, so less stones needed and faster finished. But one thing they forgot: RISK. This is what they did not mentioned to the customer.
Quality Assurance is not just for the quality of the product, but also for the quality of the process. This was new for many of the participants.
We need to pay attention to have clear roles and responsibilities. Today it was not clear who was doing what, as a result we spent too much time on communication. And communication went wrong time to time.
Share this article