Learning interventions are not measured on Business Results
I found an interesting article (ASTD research 1995) about the evaluation of learning activities that confuses me in such a way I want to write about it.
Now I realize that it was 1995 but I also want to share with you findings from the 1000's of learning engagements we have discussed by our partners and customers around the world.
Organizations invest in training or learning activities with an aim of realizing some results or goals. To determine whether we have realized what we set out to achieve we need to evaluate the learning intervention.  Kirkpatrick defined four levels of training evaluation.
(1) the evaluation of the learning process
(2) the evaluation of the learning results
(3) the evaluation of the learning effects in the workplace
(4) the evaluation of the business results.
You may think that all training is focused on effects at level 3 and 4. What surprises me was that only 3% of all learning activities are evaluated at level 4!! Ok, it was an article from 1995 but it is still a figure that surprised me, and when I discuss this with other experts in the field, with our training partners and customer organizations they pretty much confirm the findings.  
Think about the last training you went on. You were probably asked to fill in an evaluation form at the end of the training, and possibly take an exam to demonstrate you understood what you were taught. A typical example of this is the more than 2 million ITIL foundation exams. These are evaluations of the type 1 and 2.
The question I asked my self was: "Why aren't we focusing more on measuring level 3 and 4″? During  'intake interviews' with customers for our Business Simulations I decided to raise this question. The answers were:
(1) "We do not know how to do this, how can we measure business results?"
(2) "We simply do not plan this after a training"
(3) "If we plan a training, we are not asked by the training company what the Business Results need to be after the training"
(4) "We only focus on certification, or passing the exams. The rest is the responsibility of the team leader"
But where is the HR department?? Why aren't they setting up proper training processes. With BEFORE –DURING –AFTER activities?
Why isn't the manager or team leader asked to explain what plan he has with the training to create a better performance in the workplace; what effort and actions is he or she planning to implement in order to realize  business results. And if he or she is not able to come with this  plan or demonstrate the business impact of the training, why does he or she get the budget to train?
So the key questions seem to be 'How can we ensure we can create Business Results with our training investments? How can we help our customers with evaluations on level 3 and level 4 in order to realize and demonstrate more value out of training activities? This is what we will now call the 'Return On Value' of a training intervention. After all business managers want to see a 'Return On Investment (ROI)'with any significant business investment. People – or Human resources, as the industry likes to call them are critical business assets. Business performance, business growth business profitability are very often the results of people. Their skills, their capabilities and the way they behave. Surely when we invest in training them we want to insure a return on this investment? 
So how can we develop and use a different type of learning intervention aimed at increasing the value and level 3 and 4. I want to look in particular at one type of learning intervention that is a Business simulation.  A business simulation is a form of  'learning by doing' or experiential learning. Why this type of intervention?. Scientific research already confirms that it is the most effective form of learning.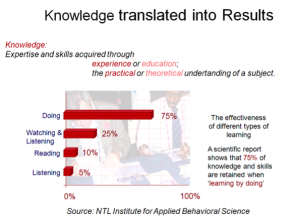 So how can a business simulation help to increase value on level 3 and level 4, developing new behavior, new working processes, more business results? A simulation is an intervention that can help, however it must be embedded in a learning process which encompasses an 'Intake' to clearly identify learning objectives and desired behavior, as well as how the learning will then be transferred into the working environment. I will look at how you  perform an intake? How to develop transfer skills to prepare employees to transfer knowledge to action? How to measure business results? How to create business value…?
In the upcoming articles I want to share with you the answers to all these questions. I will share with you our best practices, based upon literally 1000's of learning interventions in more than 20 different countries,  combined with scientific articles and research to support our findings.
Share this article