Successful 2020 Simulation with Directors of KPN Consulting
On the 13th of February the Pinch(People In Change) Practice of KPN consulting invited their Directors and 8 senior business consultants to experience '2020 – achieving sustainable change'. The main reasons WHY they joined this session:
KPN is doing business with a lot of customers facing organizational change, we need to support them. Ie want to know if this simulation could help them.

I heard a lot about this simulation, now I want to know more about it.
KPN is a strong believer of serious gaming, I need to know about this simulation to tell it to my customers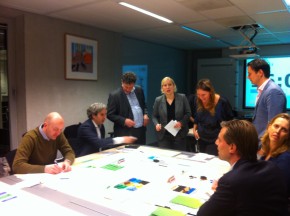 We ran 3 rounds of the simulation and we captured the lessons learned at the end of the day.
Arnold van Mameren (Vice President KPN Consulting) 
This simulation is an excellent way to confront yourself with your own behavior in day to day work.
Lessons learned from the team
"In this simulation I felt the frustration when 'management' informed us about the change plans in our company. After the first round my mind set was with my operational work. We did not have an effective way of working, we needed to improve our operational work first. This 'Manager' did not pay any attention to our current issues. How would he expect me to buy-in to this new change…"

"With this exercise I learned how important a good meeting preparation is. I felt the 'stress' while i was presenting the plans. When the 'employees' started to ask questions and show their frustration I recognized what I was doing wrong. This was very powerful!"

"I knew the theory of Kotter. In this workshop it became more alive and I experience it in action, realizing that it sounds easy, but it isn't. I need some practice. This workshop surely helps."

"I discovered today that many change programs do not give employees time to adopt the change. In this simulation the 'management' introduced change after change and I could not adopt them all. This workshop shows the consequences and teaches you how to plan the changes better."

"This is a great workshop for directors and managers to sit on the operational side of the company and experience the impact of the change on their employees."
Joris Geertman – Business Director KNP Consulting
I see the need of having these kinds of instruments as part of our services offerings to our customers. I believe that this will develop the people aspects required to create more value for our customers.
Lieke Marinusse – Director Human Resources KPN consulting
This simulation is a perfect instrument to teach consultants and managers how to facilitate change. It's very useful for our internal change programs as well programs at our customers.
At the end of the session people engaged in open dialogue sharing insights and experiences into both the success and fail factors they experienced in their daily work, helping to create new knowledge and share existing knowledge.
Share this article