Why business simulations in Healthcare
A reference case from one of our partners: Connecting people, processes and technology: create success in healthcare!
Quote: "Interesting to see how to create awareness, mindset and a common language. Applying Serious Gaming in our own teams ensures that we as a team will learn and function better. But also playing and learning with the chain brings everyone in the chain together resulting in better functioning value chains."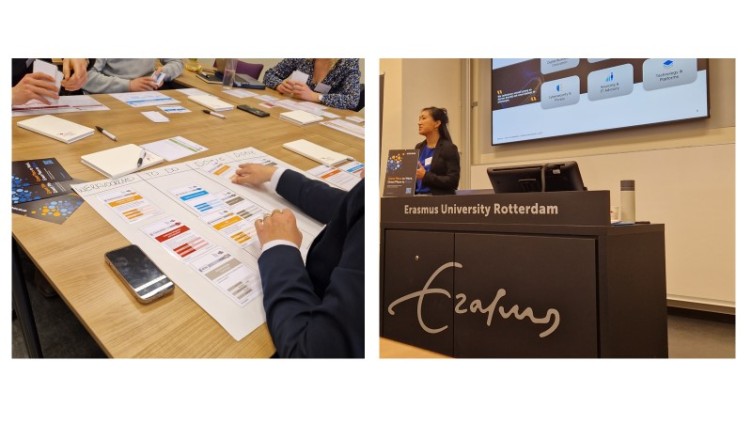 The challenge
In the rapidly evolving world of healthcare, digitization has become indispensable. It is clear that the demands placed on the IT department within healthcare are becoming increasingly greater. To meet these demands, IT departments must continuously improve their work processes. They must support the latest technologies and software, such as wearables and remote monitoring tooling. In an architecture where cloud computing and software as a service are becoming more common. During implementation, the IT organization is faced with issues that have never been experienced before. To ensure that IT continues to meet the needs of healthcare, it must be flexible and constantly improve its services and skills in small steps.
The approach
Experience the powerful collaboration between Business and IT: play the Phoenix Project simulation
To prepare and orient students from Erasmus University for developments in the labor market in programs such as Health Sciences, Health Care Management, Health Economics, Health Economics Policy & Law, they played the Phoenix Game for Business with students during Health Business Week (HBW). The HBW is a career event of Erasmus University for both bachelor's and master's students to orient themselves on the labor market. Eraneos (formerly Quint) has been a partner of HBW since 2017. The facilitators took the students on a journey in a short time on how to make Business and IT work together to contribute to quality good and effective care.
The Result
The main learning points of the participants
The students were divided into several groups of 7 participants and guided by the game leaders after which a number of rounds were played. Each round consisted of playing, reflecting and improving, resulting in better results as the game progressed. Afterwards there was reflection on what it means in practice. The students learned how to work in teams on a plan and set joint goals. But also how to deal with planned and unplanned work, how to visualize work and how to use IT smartly, also in healthcare! The workshop was well received – both students and organization were enthusiastic!
How can Serious Gaming help?
Serious gaming helps start a dialogue with employees to better understand how current practices can be adapted from traditional practices to more 'next generation' practices with a more Agile, DevOps and Lean approach. But it also gives employees the opportunity to practice and feel what it is like to adjust work processes, what it is like to work differently and what the results are.
Serious gaming is increasingly recognized and acknowledged as part of digital transformations and improvement projects. Creating awareness, mindset, common language and reference framework. Applying Serious Gaming in your own team ensures that we as a team will learn and function better. But also playing and learning with the chain brings everyone in the chain together resulting in better functioning value chains."
Share this article