In 2003 Paul Wilkinson and Jan Schilt met by coincidence. Paul had the idea about Apollo 13 and Jan had the idea of how to make a Business Simulation. After a few sessions the Apollo 13 – an ITSM case  experience was born.
The first simulation we ran for T-Mobile/T-Systems in April 2003. After this the market knew about GamingWorks and we received the first partner requests. Paul and Jan were not able to spend much time on GamingWorks since they both have their own day to day work. That's how the business model was born. A partner network with partners who do the marketing and sales and the delivery.
After the first local partners in the Netherlands, we received the first requests from other countries all over the world. Till this moment we did not contact any partners to become partner, the partners them selves contacted GamingWorks to become partner.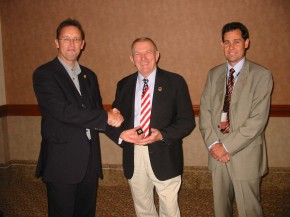 One of our biggest and most exited experiences was the meeting with Jim Lovell and Gene Krantz during our session in Las Vegas 2004. They were lovely people.
From this moment our network was growing and both Paul and Jan were traveling all around the world to train the trainers.
In 2005 we started with the development of our second simulation "The Challenge of Egypt" together with two project management specialists. This was also the year when our network reaches 40 partners.
Many conferences invited us to run demo's and share our experiences when we delivered our simulations all over the world.
In the years to come our office was growing from 1 assistant to now 4 office assistants. This team takes care of all logistics, admin, finance and contracts.
Now a days we ship over 500 simulations over the world.